Our Newest 5 Escorts To Join Our Team
It's been a very long time since we introduced the new escorts with our agency this month and hopefully we will have another successful month in March where we see more new ladies come and join our fantastic agency.
We are very happy with our progress and how things are going so far and we really don't think it will be long now before we become one of the biggest agencies in London as we have been getting such fantastic reviews of our ladies which you can see for yourself over on our Reviews page and we have been getting great interest from new clients who we have started to build relations with, what a fantastic year 2018 has been for Movida Escorts so far!
Okay so we are going to move on to introducing our ladies to you and so in no particular order we will start with:
London escort Kendra, aged 25:
We are very happy at Movida Escorts to have such a fantastic and wonderful girl come on board with our agency, this girl is a real treat and she really does look the part, her cute yet perfect 34C bust and curvaceous body is enough to win you over but she is a real naughty babe with a flirty personality and a heart of gold which we think is the perfect combination for any girl, one thing for sure if you will not be disappointed with your booking when Kendra is around.
So we are now one down and four to go, next up we have the very beautiful:
Venezuelan escort Fedra, aged 25: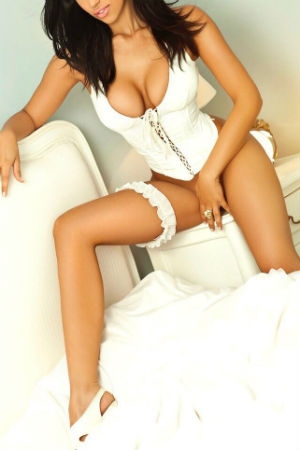 This girl is a real beauty and an eye-catcher as you see her walking down the street in her sexy dress and heels, she is guaranteed to have heads turning and a great look for you, that's for sure. Fedra is a cute and curvy girl with a 34D enhanced bust and such a delicious pair of legs which you are sure to look up and down as you just can't help yourself she is so sexy! She is originally based in South Kensington and works from 11 am - 2 am daily so be sure to not miss out on a fantastic opportunity with this Venezuelan babe.
So with Fedra ticked off the list, we are now going to move onto the sexy:
Blonde escort in London Doriana, aged 23: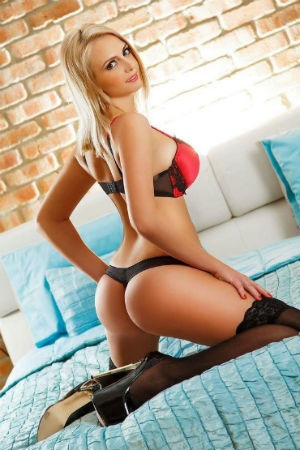 We are very blessed to have Eastern European beauty Doriana on the Movida Escorts team and there are no doubts that she will be a very popular and loved girl, she possesses a real charm and great sense of humour that she is perfect for them over the dinner table conversations and with this comes her beautiful looks and sexy attitude that will have you mesmerized and all eyes will be on this girl when you are with her. She is a busty Blonde babe with a 34D natural bust size and a very leggy girl standing at 5ft 7. Be sure to get in there fast before someone else takes your opportunity to make unforgettable experiences with Doriana.
So with just two left to go, we have an interesting one for you now as these girls are one profile but of course come as a "pair" and we are sure these beauties will grab your attention:
Duo escorts, Chrisma and Sabine, aged 23 and 24: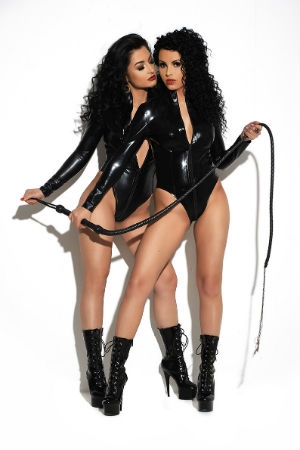 So the question is where do we start with these kinky and naughty girls who are looking for their bad boy? Chrisma and Sabine both come from Eastern Europe and they are here to make a name for themselves and also put out a statement that a night with these girls will have you thinking "what have I been missing out on all my life". They love to dress up and play and show you who's in control they both love a good fetish and you are sure to leave a happy man, they are so similar and they could even pass as "sisters" so if you are into that fetish then you have a perfect opportunity to make that fantasy a reality with Movida Escorts.
With Chrisma and Sabine both done with that leaves us with the final girl to introduce to your gents which is seductive and naughty:
Dark-Haired escort Cristiana, aged 25: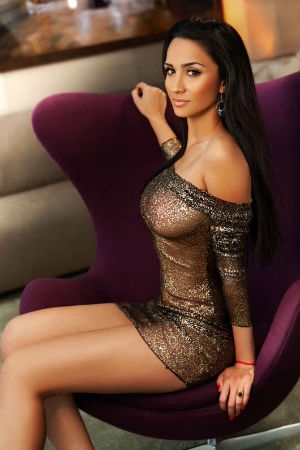 So last up is the very beautiful Cristina who has a very cheeky look to her which makes her that much more interesting, she has a natural 34C bust size and a really cute yet sexy body which definitely catches your eye, she is a fun and flirty girl to be around and if you are looking for a girl full of fun and surprises the without a doubt this beautiful babe would be a perfect booking for you. She is based in Paddington and does also offers a duo service with the very beautiful Haifa. Get your bookings arranged before it's too late.
We hope you enjoyed the read and what we had to say about the new girls that have joined Movida Escorts and so that is us for this month checking out, be sure to check back at the end of the next month for the next newest escorts to have joined our agency, as always thanks for using and trusting Movida Escorts for your escort bookings.
Also you may like